Center for treatment and rehabilitation of spine and foot problems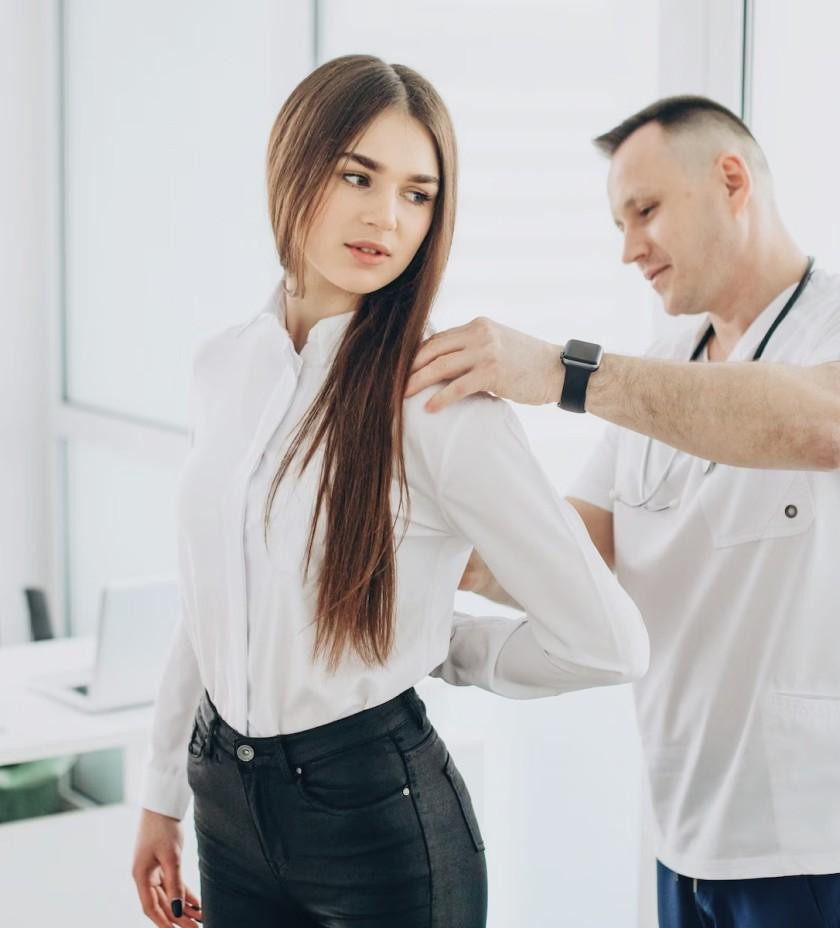 Having extensive experience, specialists of our center, using the most modern equipment of the center and the latest methods of diagnosis and treatment, will not only diagnose the disease, but also select an individual program of treatment, rehabilitation, recovery and prevention and provide medical support during treatment and rehabilitation.
WHAT WE TREAT
conditions after joint endoprosthesis surgery

conditions after injuries of the musculoskeletal system, rehabilitation after immobilization

non-surgical (non-operative) treatment of hernias and protrusions of intervertebral discs

recovery after surgery to remove a herniated disc

radiculopathy, neuropathy, tunnel syndromes

muscle atrophy, paralysis, paresis

musculoskeletal pain

neuropathic pain syndrome

myofascial pain syndrome in the back and limbs

headache, dizziness, tinnitus

arthrosis, arthritis: adhesive capsulitis, or the so-called "frozen shoulder syndrome", calcifying tendinitis of the shoulder, impingement syndrome (subacromial impingement of the tendon of the supraspinatus muscle), damage to the rotator cuff of the shoulder, ulnar epicondylitis "tennis elbow"

foot pathology: heel spur, hailux valgus, or the so-called "bone of the first finger", flat feet, achylodynia, Morton's neuroma

osteoporosis

osteochondrosis of the spine

scoliosis and postural disorders in children and adolescents
CONSULTATIONS OF SPECIALIST DOCTORS
doctor of physical and rehabilitation medicine

orthopedic traumatologist

neuropathologist
DIAGNOSTICS
laboratory diagnostics

Ultrasound of joints, ultrasound of peripheral vessels

joint goniometry

bioimpedancemetry

plantography
BOUVET
drinking treatment with mineral water "Zbruchanska" and "ROPA"
BALNEOTHERAPY
therapeutic hydromassage baths "Aquadelicia"

pearl baths "Aquadelicia"

two-chamber bathtubs "Aquamanus", "Aquapedis"

four-chamber galvanic bath "Worishofen"

underwater shower massage

shower Charcot "Aquabella II"

circular shower

rising shower

underwater stretching of the "Boppard" spine
OZOKERYTOPARAFINOTHERAPY
MUD TREATMENT
PHYSIOTHERAPEUTIC TREATMENT
computerized dry hood on the traction table "TESI Comfort TracDuo" and wet hood in the tub for horizontal water traction "Trautwein" 

laser therapy with a high-intensity infrared laser with a penetrating effect "Zimmer Opton Pro" and a scanning infrared and red laser "Medyk-2K" 

Radial shock wave therapy "enPulsPro" 

Functional magnetic stimulation "TESLA FORMER" 

pulse magnetotherapy "DIMAP V"

phonophoresis with medicines "Zimmer Soleo Sono"

multifunctional modern electrotherapy "Soleoline Soleoline Galva / VacoS" 

TEKAR therapy is a modern innovative therapeutic system for deep thermotherapy "Zimmer Thermo Pro" 

high-tone therapy "HiToP 1touch"

modern UHF inductothermy device "Enraf nonius Curapuls 670"

pressotherapy with the "Iskra Medical Green Press 12" device 

carboxytherapy - subcutaneous microinjections of medical carbon dioxide "INDAP Insuf"

ozone therapy, intravenous ozone therapy and periarticular administration with the Hyper-Medozon comfort device 
MEDICAL MASSAGE
KINEZOTAPING 
PLANTOGRAPHY AND MANUFACTURING OF INDIVIDUAL ORTHOPEDIC INsoles  
KINESIOTHERAPY HALL
classes in the "UGUL" cage

classes at the Yevminov prophylactic

Bubnovsky rehabilitation simulator

classes on the rehabilitation table "RS-1"
THERAPEUTIC PHYSICAL EDUCATION
pilates

step aerobics

nordic style

therapeutic dosed modicba according to terenkur
SWIMMING IN THE POOL, HYDROCINESOTHERAPY 
MEDICATION THERAPY AND MEDICATION-MEDICATION BLOCKADES
Peace, clean air, healing mineral water "Zbruchanska", forest walks along the Terenkur in a complex with medical procedures will help not only to overcome the disease, but also to restore health and life potential.
"ARDEN PALACE" Medical Center is a place to restore your vitality.